Arteflame Classic 40" Grill- Tall Base With Storage
The Arteflame Classic 40" grill with tall round base is also available with storage.  It has the same sleek look with outstanding functionality.  Building a wood or charcoal fire in the center of the grill, the cook top heats from the center out. This heat pattern results in higher cooking temperatures closer in as compared to the outer edges so a variety of foods can be cooked at various temperatures all at the same time. When not in use as a grill, Arteflame can also be enjoyed as a fire bowl with the cooktop on or off, providing warmth and a social and serene ambiance.
The Arteflame Classic 40" grill is a one of a kind grilling experience. The cooktop is made of 1/2" carbon steel and the spun bowl is a high grade of US CORTEN steel or "weathering" steel. The round base is also crafted of CORTEN steel and is designed with "Classic" lines and unsurpassed functionality. 
All Arteflame Classic grills have the accessory ring under the cooktop so that the optional sizzle grate can be dropped in and lay flush with the cooktop.
The Classic 40 with the tall storage base has the same sleek look from the front as the regular tall round base.  The back however is open and has 2 shelves for storage.  Perfect for placing your grill utensils or fire wood.  Anything you'd like to keep close at hand while grilling.
If you are looking for some storage space underneath your Arteflame, you want the Tall Round base With Storage.  Perfect for storing your utensils, charcoal or firewood.  The stainless steel shelve is removable in case you want to just store firewood.  The stainless shelve divides the storage space into two 10" compartments (18 1/2" deep by 20" wide).  The internal draining system ensures al rain water drains away from the storage compartment.
Uses both wood and / or charcoal
Removable cooktop is laser cut from 1/2" steel
Open storage area with stainless steel shelve
Internal water draining system
Optional center grill grate
Can be used as a fire bowl with, or without the cooktop
Cooktop "lift and remove" tool included
Fire bowl is spun from a single piece of corten steel without seams or welds
Virtually maintenance-free: all residue can be scraped into the fire
After cook top cools, wipe clean with a cloth or paper towel and food safe oil
Can be left outside year-round; base develops a beautiful, maintenance free patina over time
Includes seasoning puck for seasoning of cooktop
Designed and Made in the USA using US steel
DIMENSIONS: 40" Wide x 38" High, 355lbs.  

(102cm x 97cm, 152Kg)

Base diameter is 21"

Reference Grill Size with 5 foot 10 Male
Arteflame Grills are all steel making them quite heavy.  Complete product pallets can weigh over 500lbs.!  Because of this, there are some UPS freight charges calculated before check-out.
Note: When your grill arrives, the cooktop will be silver (unseasoned). It will develop the dark color shown in the images once it has been seasoned and used several times.
Customer Reviews
Write a Review
Ask a Question
Filter Reviews:
grill
delivery
experience
quality
Arteflame
purchase
customer service
times
friends
accessories
05/07/2021
Josh T.

United States
Love it!
I have only had my arteflame for a week but have really enjoyed cooking on it. I have two big green eggs and a Yoder pellet smoker and the arteflame is the most unique and fun to cook on. It's been a blast to have others join in on the cooking around the pool.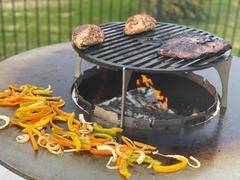 05/04/2021
Al H.

United States
One of our best purchases
We've had our Arteflame grill for over a month and have used it 3 times (breakfast, burger night and Korean BBQ) and it's everything we had hoped it would be. First off, it's a wonderfully communal cooking experience, and after being in lock down for a year, it's great to be able to cook with friends (we are all vaccinated). Cooking on it takes a bit of finesse. We have a wood fired pizza oven, so I've got some experience cooking with wood. We've been using almond wood and some charcoal and letting a large fire burn for about 1 1+ hours before using the grill. We have the center height extender and we keep a large round cast iron platter (looks like a paella pan) on top of the grate for when things are done cooking. Next up – fajita night.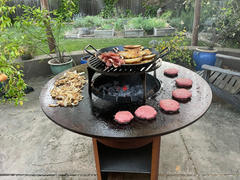 04/26/2021
Virginia G.

United States
So far so good
I have only used it twice so far. I think I'm going to love it. I'm anxious to see what it looks like when it is weathered and seasoned. The grill part of mine had a lot of rust on it when I got it. It is slowly coming off as I heat and season it. I will say the customer service has been great.