How to Choose The Best Firewood For Your Grill
What Lumberjacks Know That You Might Not
Wood serves as a tree's conduit, transporting water infused with nutrients from its roots to its leaves—essentially, the lifeblood of the tree. When a tree is felled, the wood retains this water and nutrient content, represented by sap and resins. Freshly cut firewood, laden with these elements, generates significant steam and smoke as the water evaporates and the resins gas off. This resulting smoke imparts an unpleasant acrid flavor, making it unsuitable for grilling. To transform freshly cut wood into optimal firewood for grilling, the wood must undergo a drying process known as "seasoning." This process typically requires a minimum of six months but can extend up to two years, contingent on surrounding moisture and temperature conditions for proper seasoning.
Premium firewoods often undergo "kiln drying" to achieve consistent results. Kiln drying offers the advantage of a higher drying temperature, effectively eliminating any fungus or pests while expediting the drying process compared to open-air drying. In some cases, kiln-dried firewood is subjected to temperatures as high as 250°F for up to 48 hours to achieve the perfect moisture content.
During the seasoning process, the sap solidifies, and moisture evaporates from the wood, resulting in excellent firewood ready for optimal grilling.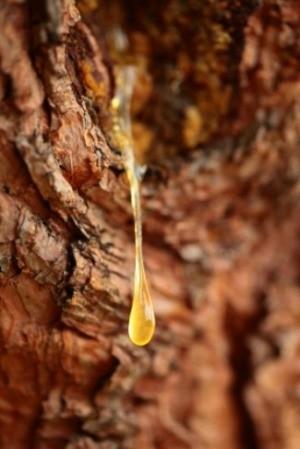 Firewoods to Avoid for Grilling
Steer clear of softer woods such as pine, douglas fir, or spruce when considering options for grilling. Softwoods tend to produce excessive smoke and contain resins that impart an undesirable flavor. While these types of trees may serve well in lumber applications, they fall short in comparison to hardwoods when utilized as firewood. Despite the fact that softwood firewood can ignite and burn under sufficient heat, it does not make for an ideal choice in the realm of grilling and should be avoided.
When delving into the discussion of grilling with wood, the focus predominantly shifts to hardwoods like mesquite, cherry, or hickory. Hardwoods, distinguished by their greater density, emit less smoke with a more appealing aroma and generate more heat compared to softwoods.
Wood sourced from fruit trees finds its niche when grilling lighter meats such as fish, pork, or chicken. These meats readily absorb the milder smoke, resulting in a delightful flavor. Conversely, heartier red meats like beef benefit from a more robust smoke. Similar to the nuanced application of seasoning, the choice of smoke flavor should align with the type of meat or dish being prepared, allowing for a tailored and enhanced grilling experience.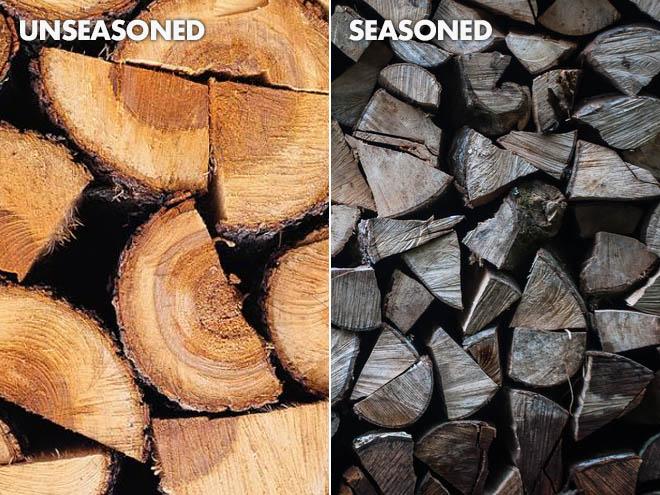 Is Seasoned Firewood Worth the Effort?
When engaging in the seasoning process for your wood, a crucial step is to first split it into even pieces. This not only expedites the seasoning of the wood but ensures a more uniform outcome. Additionally, it's imperative to promote adequate airflow around the wood and prevent direct contact with the ground. Wood that comes into contact with the ground is susceptible to mold formation, and any moldy pieces should be strictly avoided for grilling purposes.
The uniformity in cutting wood plays a pivotal role in its burning characteristics. Opt for whole or split logs that are evenly cut when selecting firewood. While split logs are generally easier to ignite, they may not burn as long as whole logs. On the other hand, whole logs offer a prolonged burning duration but necessitate a hotter fire to initiate combustion. Although starting a fire with whole logs might pose more challenges, their extended burn time becomes an advantage once the fire is established.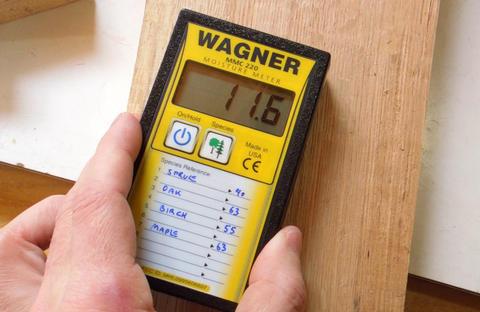 The Importance of Seasoned Firewood for Open Fire Grilling
Utilizing seasoned firewood is essential for effective open fire grilling. Wood that is freshly cut or classified as "Green" can exhibit a moisture content ranging from 60% to a staggering 120%. Yes, a moisture content of 120% implies more water than actual dry wood—a clear hindrance to optimal grilling conditions. To achieve suitability for grilling, it is recommended to target a moisture content below 40%.
Professional grillers often prefer firewood with a moisture content as low as 20% for open fire grilling. However, it's crucial to note that lower moisture content results in quicker wood combustion and increased difficulty in maintaining a consistent temperature.
When sourcing firewood, your supplier possesses knowledge of the moisture content and can provide valuable advice. If you are seasoning your own firewood, a moisture meter becomes a valuable tool, simplifying the assessment of moisture content to ensure optimal grilling conditions.
Exclusive Engineered Airflow
Arteflame redefines outdoor cooking through its meticulously engineered airflow system, enabling the combustion of a dynamic mix of charcoal and wood. This innovation effortlessly elevates the grill grate to temperatures exceeding 1,000°F, a critical element for achieving a flawless sear on steak exteriors while preserving desired rareness within.
The intense heat expertly seals in juices, imparting a profound and flavorful richness to the culinary creations. Additionally, the radiant heat permeates the solid steel cooktop, facilitating simultaneous grilling of diverse foods in optimized heat zones.
With Arteflame, precision temperature control is at your fingertips, emulating the standards set by five-star steakhouses.
An Arteflame grill harmoniously combines a refined, contemporary aesthetic with outstanding functionality, reinventing the landscape of outdoor cooking. The distinctive design revolves around igniting a fire at the grill's core, causing the cooktop to heat from the center outward. This unique heat distribution pattern establishes higher cooking temperatures at the center, allowing for the simultaneous preparation of an array of foods at varying temperature levels.
Crafted specifically for use with firewood, Arteflame grills guarantee a consistently delightful grilling experience with each use.
Discovering the Best Firewood for Open Fire Grilling
Explore the perfect wood choices for open fire grilling with this comprehensive list:
Applewood:




Flavor Profile: Sweet and somewhat fruity.

Ideal for: Beef, pork, lamb, poultry, and certain seafood.




Alder:




Flavor Profile: Sweet, delicate, and universally appealing.

Ideal for: Seafood and vegetables, making it a versatile choice.




Cherry:




Flavor Profile: Mild and fruity.

Ideal for: Pairing well with all meats, providing a unique wood-burning experience.




Hickory:




Flavor Profile: Sweet, strong, and bacon-like.

Ideal for: A go-to choice for many grillers, especially for pork or chicken.




Maple:




Flavor Profile: Sweet, light, and very mild.

Ideal for: Poultry, adding a sweet, smoky, savory flavor.




Mesquite:




Flavor Profile: Very distinct, with a strong earthy flavor.

Ideal for: Dark meats like brisket, wild game meat, duck, lamb, or Brazilian-style Barbacoa.




Oak:




Flavor Profile: Medium-strong, classic smoke.

Ideal for: Compatible with almost every type of meat, dense, and produces long-lasting fires.




Pecan:




Flavor Profile: Sweet, rich, and nutty (similar to hickory).

Ideal for: Poultry and meats like ribs, offering a trusted and less overpowering taste.




Walnut:




Flavor Profile: Strong, intense, with a potential for bitterness.

Ideal for: Wild game, providing a heavy flavor that complements robust meats.



Experiment with these firewood options to enhance your open fire grilling experience. Each wood type brings its unique characteristics, allowing you to tailor the flavor profile based on your culinary preferences.


Understanding the Ideal Wood for Your BBQ Grill
Wood and its Role:Wood, acting as a tree's conduit, carries water and nutrients from the roots to the leaves—the tree's lifeblood. Once a tree is felled, the wood retains these essential elements. However, fresh firewood, laden with water and nutrients, creates undesirable effects during combustion, such as excess steam and an acrid taste. This leads to an unpleasant smoke flavor, unsuitable for grilling. To transform freshly cut wood into suitable firewood, it undergoes a drying process known as "seasoning," requiring a minimum of six months.
Selecting the Right Wood for Grilling:In the realm of grilling with wood, the emphasis is on hardwoods like mesquite, cherry, or hickory. Softer woods, such as pine, are unsuitable due to the unpleasant smokiness they impart. Fruit tree wood becomes a preferred choice for grilling lighter meats like fish, pork, or chicken, effectively absorbing the lighter smoke. For heartier red meats like beef, a heavier smoke is recommended. Treating smoke flavor akin to seasoning allows for a customized approach to different meats and dishes.
Why Opt for Seasoned Firewood?Seasoning firewood involves drying it to make it suitable for grilling. "Green" or freshly cut wood can have a moisture content ranging from 60% to 120%, with a target moisture content below 40%. Professional grillers often prefer wood with a moisture content as low as 20%. However, lower moisture content results in faster burning and increased difficulty maintaining a consistent temperature. Using a moisture meter simplifies assessing the wood's moisture content.
Seasoning Your Wood:When seasoning wood, splitting it into even pieces accelerates the process and ensures even drying. Adequate airflow around the wood is crucial, and it should be kept above the ground to prevent mold formation—moldy pieces should not be used for grilling.
Arteflame Grills and the Ultimate Grilling Experience:Arteflame grills are ideal for wood grilling, ensuring the fire never directly touches your food while infusing a delightful smoky flavor.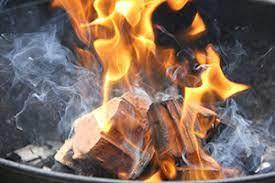 Enhancing Flavor: Firewood as a Culinary Seasoning
Consider wood smoke as a culinary seasoning and revel in the exploration of diverse flavor combinations that suit your taste preferences. It's important to acknowledge that trees, as living entities, absorb nutrients from the soil. Due to variations in soil composition across different locations, the flavor profiles of wood can significantly differ from one place to another, offering a delightful journey of discovery.
Arteflame grills provide an ideal platform for wood-based grilling. With a solid cooktop, the fire never directly contacts your food, yet imparts a rich, smoky flavor. This innovative design offers a dual grilling experience, allowing you to cook directly over the open fire using the center grill grate or utilize the griddle. The griddle opens up possibilities for cooking items like bacon, veggies, crepes, or eggs—foods that might be challenging on traditional grills. Whether grilling burgers or steaks on the flat cooktop/plancha, Arteflame ensures an unmatched level of juiciness in every bite.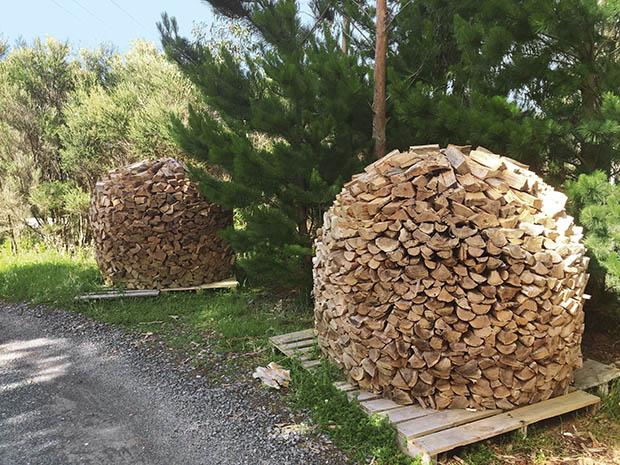 Efficient Firewood Storage: 5 Essential Tips
When dealing with firewood, proper storage is crucial for maintaining its quality. Here are five key tips to ensure your firewood stays in optimal condition:
Covered Protection: Shield your firewood from the elements by covering it with a tarp, angled roof, or rack cover. Storing it inside a woodshed is also an effective option. This protective measure prevents exposure to rain, snow, and wind, preventing moisture absorption.

Elevated Stacking: Always stack firewood above ground level to deter pests and prevent moisture absorption from the soil. Moisture can lead to wood rot and make the firewood challenging to ignite. Utilize a raised platform or a sturdy slab made of wood or concrete for proper elevation.

Optimal Airflow: Adequate airflow is essential for preserving the integrity, effectiveness, and aroma of your firewood. It also helps combat any moisture that may have entered the storage area. Ensure the chosen storage location is well-ventilated, and avoid stacking the firewood too densely to allow fresh air access to the bottom layers.

Distance from Foundation: Keep firewood several feet away from your home's foundation, preferably on a raised rack. This distance helps prevent insects and protects your foundation from potential damage.

Proximity to Your Grill: If you use firewood for grilling, store it conveniently close to your grill. This ensures easy access every time you want to enjoy a barbecue, making the process more efficient and enjoyable.