How to Choose The Best Firewood For Your Grill
What Lumberjacks know and you don't.
Wood is the means a tree uses to transport water with nutrients from its roots to its leaves.  Think of it as the life blood of the tree.  When a tree is cut down, the wood is still full of this water and nutrients (sap / resins).  Fresh firewood therefore produces a lot of steam and smoke as the water evaporates and the resins gas off.  The resulting smoke gives an unpleasant acrid tasting flavor to the food and is not good for grilling.  In order to convert freshly cut wood into good firewood for grilling, the wood needs to dry out or "season".  The minimum time to season firewood is at least 6 months but it can take up to 2 years depending on the surrounding moisture and temperature to properly season.
Many premium firewoods are "kiln dried" to give a consistent result.  The advantage of kiln dried wood is that it is dried at a much higher temperature.  This kills off any fungus or pests and dries the wood much faster than drying it in the open air.  Some kiln dried firewood is taken to 250F for as long as 48 hours to get to the perfect moisture content.
As the wood seasons, the sap solidifies and the moisture evaporates from the wood.  This makes for great firewood.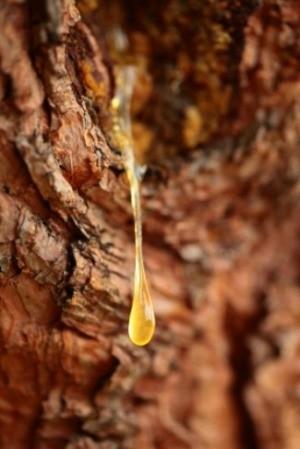 What Firewoods Not To Use
Softer woods like pine, douglas fir or spruce are not suitable for grilling.  Soft wood smokes a lot and is full of resins that give off an unpleasant flavor.  While softwood trees make great lumber, they pale in comparison to hardwood trees when used as firewood.  Most softwood firewood will ignite and burn when exposed to enough heat, but that doesn't mean it's a good choice for grilling.  Soft wood should be avoided for grilling.

When talking about grilling with wood, we typically only talk about hard woods like mesquite, cherry or hickory.  Hard wood is denser, produces less smoke (that smell much better) and gives off more heat than soft wood.
Wood from fruit trees is mostly used when grilling lighter meats like fish, pork or chicken.  These lighter meats absorb the lighter smoke easily and the resulting flavor is great.  Heavier red meats like beef are better suited for heavier smoke.  You should use the smoke flavor just like you use seasoning.  Each type of meat or dish is seasoned differently so it also combines with smoke differently.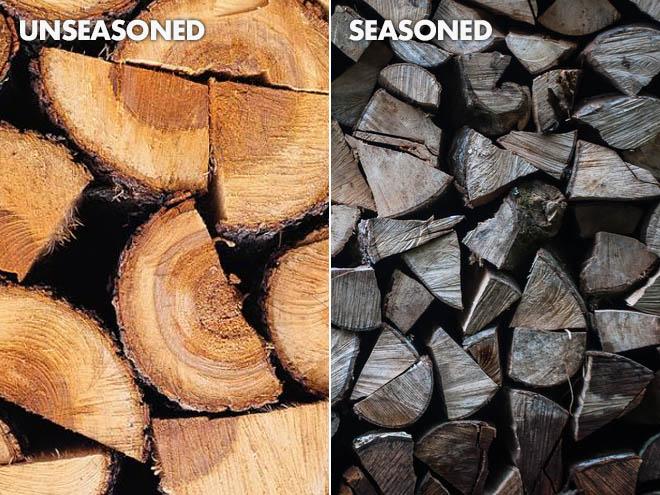 Seasoned Firewood, Worth It?
When seasoning your own wood, it is important to split it first into even pieces.  This will season the wood much quicker and more evenly.  Make sure you allow air to flow around the wood and avoid the wood from touching the ground.  Wood pieces that touch the ground can form mold and moldy pieces should not be used for grilling!
When a piece of wood is cut evenly, it burns evenly.  When choosing firewood, opt for uniformly cut whole or split logs. Split logs are typically easier to light, but do not burn as long as whole logs.  Whole logs have a longer lasting burn but require a hot fire to ignite.  Whole logs are more difficult to start your fire with but last longer once your fire gets going.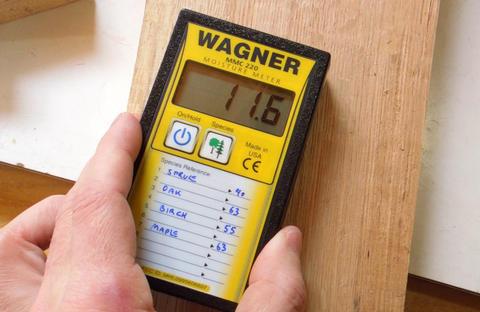 Why use Seasoned Firewood?
Seasoning firewood dries the wood so it is suitable for open fire grilling.  Wood that was just cut or is "Green" will have a moisture content between 60% and 120%.  Yes!  120% moisture content means there is more water than actual dry wood!  You should have a moisture content below 40%.  Many professional grillers use firewood with moisture content of 20% for open fire grilling.  Just be aware that the lower the moisture content, the quicker the wood burns and the harder it is to keep a consistent temperature. 
Your firewood supplier will know the moisture content of the wood and he will be able to advise you.  If you are aging your own firewood, a moisture meter will make it easy to see the moisture content.
Arteflame; Made For Open Fire Grilling
An Arteflame grill elevates the art of outdoor cooking with a sleek, contemporary look and outstanding functionality.  Building a fire in the center of the grill, the cook top heats from the center out. This heat pattern results in higher cooking temperatures closer in as compared to the outer edges so a variety of foods can be cooked at various temperatures all at the same time. When not in use as a grill, the Arteflame doubles as a fire bowl with or without the cooktop, providing warmth and a social serene ambiance. 
Arteflame grills are designed for use with firewood and allow you to grill delicious food every time.
The 9 Best Types Of Firewood For Open Fire Grilling
Here is a list of the various wood types best for open fire grilling;
APPLEWOOD: sweet and somewhat fruity in flavor, this is great for beef, pork, lamb, poultry and some seafoods.
ALDER: this is often the go-to wood sort as it is generally well liked by everyone.  It is sweet, delicate and has an overall great taste.  Great for seafood or vegetables.  Good overall wood choice that is sure to please everyone.
CHERRY: mild and fruity in flavor that pairs well with all meats and won't overpower the taste of seafoods.  If you're looking for an awesome unique wood burning experience that stands apart from the rest, try cherry wood. This firewood does not burn as hot or as long as the denser woods like hickory or oak but many firewood enthusiasts refuse to burn anything but cherry firewood. The smell of cherry wood burning is out of this world, providing an amazing, slightly sweet aroma that gives a great mild flavor.
HICKORY: sweet, strong and distinct flavor, almost bacon like. Because of this, it is the go to for many grillers.  Great for pairing with pork or chicken.  Hickory is a dense and heavy hardwood that most agree is traditionally the best for burning.  Hickory wood is extremely easy to ignite and it doesn't hold much moisture once dried.  Of all wood selections, many find hickory the best overall.  It burns longer than all other split wood options.
MAPLE: sweet, light and very mild in flavor.  Great for poultry.  Maple is a classic food flavoring that goes beyond the syrup on your breakfast table. Maple is perfect for infusing meats, vegetables, nuts, and other dishes with a sweet, smoky, savory flavor.  Maple fire wood is cut from a maple like the Acer Saccharum (Sugar Maple), which produces the sweet syrup we all love.
MESQUITE: very distinct strong earthy flavor that pairs well with dark meats like brisket, wild game meat, duck, lamb, or Brazilian Style Barbacoa.  It is great for any meat that can stand up to its strong flavor.
OAK: Medium strong, classic smoke flavor, works well with just about every type of meat.  There are more than 600 different varieties of oak. This wood is dense and burns for a long time, though not quite as long as hickory.  Oak firewood is among the most abundant.  It produces bright flames that give off ample heat.
PECAN: Sweet, rich and nutty, similar to what hickory tastes like.  Also great for poultry.  When it comes to barbecue cooking, no wood has been more trusted throughout the years than pecan.  The taste is similar taste to hickory but it is not as overpowering.  This makes it well suited for meats such as ribs and poultry.
WALNUT: strong, intense heavy flavor that can push being bitter tasting, good for wild game.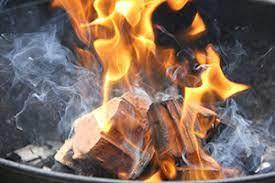 Using Firewood as Food Seasoning
Wood smoke is like seasoning.  Enjoy playing with it and see what combinations work best for you.  Also remember that trees are living, breathing forms of life that absorb all the nutrients from the soil.  As soil is different in each location, don't be surprised if one type of wood can be dramatically different from one location to the next!  Exploring these variables can be a lot of fun.
Arteflame grills are perfect for grilling with wood.  Because of the solid cooktop, the fire of the wood never touches your food yet adds that delicious smokey flavor in abundance.  It gives you the best of both worlds.  You can grill directly over the open fire using the center grill grate or use the griddle.  The griddle allows you to cook food impossible to grill on anything but an Arteflame like bacon, veggies, crepes or eggs.  Grilling burgers or steaks on the flat cooktop / plancha makes for the juiciest food you will ever try.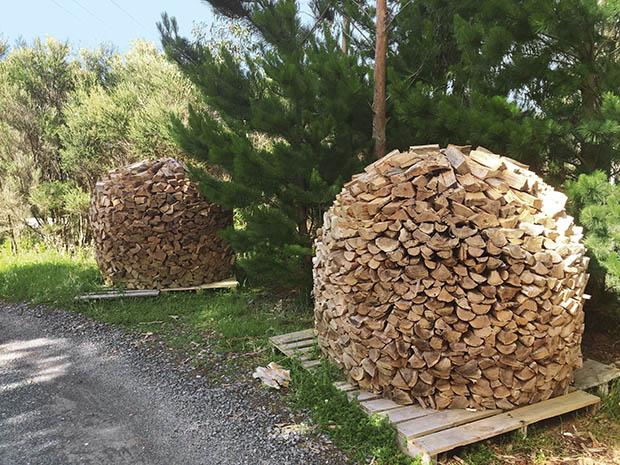 5 Tips On How To Store Your Firewood
Most firewood vendors will unload and stack your firewood for you.  Unless you plan on using it within a month or so, make sure you store it properly.  If you want to show off your firewood, you can even stack it "Norwegian" style!
Proper firewood storage;
Covered: Keep your firewood protected from rain, snow, and wind by covering it with a tarp, angled roof, or rack cover. You can store it inside a woodshed as well.  Doing so prevents it from exposure to the elements or absorbing moisture.

Off the ground: Always stack firewood off the ground.  Having it on the ground invites pests and allows moisture to come up from the dirt into your wood. This moisture can cause wood rot or render your firewood difficult to light. Instead, stack your wood on a raised platform or a sturdy slab made of wood or concrete.
Near adequate airflow: Adequate airflow is the best way to preserve your wood's integrity and maintain its effectiveness and aroma.  Proper airflow will also combat any moisture that has made its way into your storage area.  Make sure wherever you choose to store your wood, it is well ventilated and avoid stacking the firewood too compactly for the bottom layers to access fresh air.
Away from the foundation: Always keep firewood several feet away from the foundation of your home, preferably in a raised rack to keep insects away and protect your foundation from accidental damage.
Near your grill!  You'll be using the firewood each and every time you grill so make sure it is in a convenient spot to get to.