Arteflame One Series 20" Grill
Elevate the art of outdoor cooking with the sleek, contemporary look and outstanding functionality of the Arteflame Grill. The fire is built in the center of the grill, so the cook top heats up from the center out. This results in a higher cooking temperature closer in than on the outside edge, so food can be cooked at various temperatures all at the same time. When it's not in use as a grill, it can also be enjoyed as a fire bowl, providing warmth while creating a serene ambiance.

The new One Series Arteflame design is based on the same concept as the Classic Arteflame 40" grill but in a smaller format. The smaller design is fueled by charcoal or wood chunks and crafted in two pieces - a 1/4" carbon steel cooktop and a US CORTEN steel base made to last a lifetime. It is 20" tall and the cooktop is 22.5" in diameter, the same as a standard kettle style grill.  The smaller format heats up faster and uses less fuel making it ideal for everyday grilling for a family.
All Arteflame One 20 grills have the accessory ring under the cooktop so that the optional sizzle grate can be dropped in and lay flush with the cooktop.
Uses both wood and / or charcoal
Great for sit down grilling (or stand up with optional grill stand)
Ideal for everyday family use
Removable cooktop
Optional center grill grate
Can be used as a fire bowl with, or without the cooktop
Virtually maintenance-free: 60 second clean up
Can be left outside year-round
Includes seasoning puck
Designed and Made in the USA using US steel
DIMENSIONS: 22.5" Wide x 21" High, 65lbs.  

(57cm x 53cm, 29Kg)

Reference Grill Size with 5 foot 10 Male
Arteflame Grills are all steel making them quite heavy.  Complete product pallets can weigh over 500lbs.!  Because of this, there are some UPS freight charges calculated before check-out.
Converting your One20 into a Fire Pit
Note: When the grill arrives, the cooktop will be silver (unseasoned). It will develop the dark color shown in the images once it's been used several times.
Customer Reviews
Write a Review
Ask a Question
Filter Reviews:
grill
Arteflame
fire pit
experience
Family
size
burgers
rotisserie
food
customer service
02/13/2021
JEFF J.

United States
A communal experience!
I love the social experience of grilling on my new Arteflame. Unlike my old grill, where I would leave guests to cook on the grill, we now gather, with cocktails, around the Arteflame as it is warming. We treat it as a fire pit. As it burns down, I place the center grilling lid and cooking becomes an event with everyone sitting around the grill. Almost like cooking at campfire, but on a beautiful and professional grill surface. I'll never grill on any other type of grill again. Thank you Arteflame!!!
12/20/2020
Venkatram R.

United States
Love my Arteflame 20
I've had my Arteflame 20 for 6 months, a 50th birthday gift to myself :) One must use an AF to understand the fandom... and one must appreciate grilling on coal and wood. The versatility is amazing. I use it for a variety of cooking, from traditional grilling on the griddle, to succulent kebabs on the coals, to traditional slow cooked biryanis. The aesthetics are amazing and always a conversation starter. My bbq guests vie for a chance to cook on it. The maintenance is zero. Well done Arteflame team, you have created something that is amazing value for money.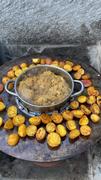 11/21/2020
Misty B.

United States
Amazing experience!
I could not be more impressed with the quality of this grill. The experience is the best part. This smaller version is ideal for quick cooks and bonfires I love it!