Classic / Euro Optional Base
Classic / Euro Optional Base
The Classic / Euro Arteflame can be fitted to any of our optional low or high bases.  The high base is ideal for standing around the Arteflame to socialize, grill or just enjoy the fire and warmth.  The low base is perfect for sitting around the Arteflame and using it to grill or as a fire bowl.  An optional extra base will give you the best of both worlds.
If you are looking for some storage space underneath your Arteflame, you want the Tall Round base With Storage.  Perfect for storing your utensils, charcoal or firewood.  In case you want to just store firewood, you can remove the middle stainless steel shelve.  This shelve divides the storage space into two 10" compartments (18 1/2" deep by 20" wide).  The internal draining system ensures al rain water drains away from the storage compartment.
Euro base with large stainless steel footer is ideal for placement on soft surfaces
Made of US Corten steel
Maintenance-free
Mix and Match, modular design
Can be left outside year round
Made in the USA
DIMENSIONS High Round Base With Storage: 20" Wide, 29" High, 85lbs.  

(51cm x 74cm, 38Kg). Incl. stainless steel shelve.

DIMENSIONS High Round Base: 20" Wide, 29" High, 80lbs.  

(51cm x 74cm, 36Kg)

DIMENSIONS Low Round Base: 20" Wide, 10" High, 27lbs.  

(51cm x 25cm, 12Kg)

DIMENSIONS High Euro Base: 26" Wide, 30" High, 117lbs.  

(102cm x 76cm, 53Kg)

DIMENSIONS Low Euro Base: 12" Wide, 10" High, 44lbs.  

(102cm x 25cm, 20Kg)
Customer Reviews
Write a Review
Ask a Question
The old saying you get
The old saying you get what you pay for, for what I pay for then received has met beyond my expectations. Superior engineering and craftmanship for base and completely assembled grill. One has to look past the price tag but understand that this will bring a lifetime of cooking pleasure.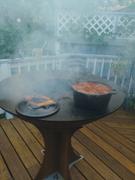 Thanks for leaving your great review!
Always fast deliveries!!
All my questions are answered fast and delivery is always within days of my purchase