Barbecue Grill Rotisserie With Cordless Motor
Barbecue Grill Rotisserie With Cordless Motor
The Arteflame Barbecue Grill Rotisserie Accessory fits perfectly in the center of the Arteflame grills allowing you to cook perfect rotisserie chicken, turkey, kabobs, or hang foods from the top rack including dutch ovens or sausages and other meats.  For the Classic, Euro and One 40 and One 30 grills, the Barbecue Grill Rotisserie fits into the cooktop and mounts to the accessory ring.  For use with the One 20, the cooktop is removed and the Barbecue Grill Rotisserie is mounted instead.

This stainless steel system is made specifically to attach to the sear ring on the cooktop with just a simple squeeze and release.

This Barbecue Rotisserie Grill Accessory kit includes a cordless battery operated rotisserie motor, spit and one set of forks. The motor will turn up to 25lbs.
If you want to use both rotisserie portions at the same time, add the optional "Extra Rotisserie Cordless Motor, Spit, Forks and Bracket Kit".
Customer Reviews
Write a Review
Ask a Question
Filter Reviews:
rotisserie
grill
Arteflame
chicken
quality
design
prime rib
chance
friends
Family
I love using the rotisserie on the Arteflame Grill
The rotisserie was very easy to put together and the motor was able to with ease rotate a large goose the other night. It fit perfectly on the arteflame grill and nothing beats the flavor of that self-basting fat dripping down on open wood flames. I love the rotisserie function on this amazing grill!!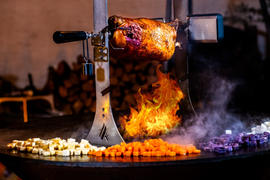 12/08/2021
Lance E.

United States
almost perfect
While the quality of the product was top notch, the design could have been thought out a bit more. At the base, where the rotisserie attaches to the grill, the top prong should be slightly bent to sit on top of the grill surface. While this is easily done, the adjustment is not covered by the instructions. Still, it worked as advertised. Also, I was surprised that I did not have a cord and that the unit was only operated by two D cell batteries, although there was a place that a cord could be plugged in, one did not come with my unit.
Hi Lance; We do not supply the electrical cords because it is simply too inconvenient to use. Often, there isn't an outlet close to the grill so you need an extension cord. In addition to that, the electrical cord can melt and short out if it touches the hot grilling surface! Much better to just use the batteries that last a long time anyway! Michiel
09/30/2021
Geoff D.

Canada
Arteflame rotisserie
I purchased the rotisserie for my Arteflame 40" grill. It is a wonderful addition to the grill and allows so many more options for cooking. Well designed, quality product. I 'm extremely happy with it. You shouldn't be without one, if you own an Arteflame grill.