Arteflame Grill Side Warming Table (Fits All 40" Grills)
Arteflame Grill Side Warming Table (Fits All 40" Grills)
These Grill Side Warming Tables mount underneath the cooktop and lock into place for when you need a little extra space around the grill.  Perfect for keeping food warm or holding light items such as spatula's, tongs, etc.  (Also the griller's favorite beverage!).
These tables are modular and come in 90 degree segments.  Use just one for extra space or up to four for a complete wrap around.
The side tables fit underneath the cooktop and sit right up against the grill so they will get warm!  DO NOT USE FOR STORING SOFT PLASTICS, STYROFOAM OR OTHER ITEMS THAT ARE EFFECTED BY HEAT. 
10Lbs WeightLlimit

All Stainless Steel

Each Table Sold Per 90 Degree Segment

Designed To last a Lifetime

NOTE: Vinyl Cover Will Not Fit With Side Tables Installed
Customer Reviews
Write a Review
Ask a Question
05/02/2021
Mark S.

United States
Needs to be an 1 1/2" wider
Bought this and the rosewood cutting board. Shelf is a little too narrow to give a comfortable feeling of stability.
Hello Mark; Thank you for your feedback. The tables are designed within the weight limits of what we feel is safe. The wood block is wider than the tables to give you more space so it can better be used for serving. The feet are designed to keep it in place on the table.
04/23/2021
Quoc T.

United States
Side warming table
Nice attachment for counter spaces.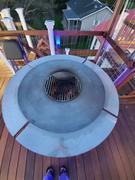 Works Like a Dream
These side tables are just what I wanted. Having 2 is perfect. I use one with the optional wooden cutting board and the other one to put my spices and sauces on. Works like a dream!!!
Thanks for the great review!